Hi everyone! Welcome back to my blog! It's that time again; K's Baes Time! Yay! I was thinking about new blog posts earlier this week and I completely thought that I had missed this month's favourites post! But then I realized that March wasn't over yet, so YAY! I don't have a bunch of products this month..Mostly because I haven't been able to buy makeup and I have been sticking with my favourites. But there are a few different ones that I figured I would share with you guys! Without further ado, let's get to it, shall we?!
Well, seeing as Spring has finally sprung, I am starting to get into more colourful makeup looks! Purples, pinks, mint greens .. I love Spring mostly for these colours. Over Easter, I became obsessed with purple! And I knew exactly where to find the most beautiful purples …
My BH Cosmetics X Carli Bybel Palette! This palette is so frigin beautiful. I have been in love with Carli Bybel for years now; She was my very first YouTube obsession. So you know when this palette came out, I had to buy it! There are 10 eyeshadows and 4 highlighter shades. I have become obsessed with the last three on the top row. They are the most beautiful shades of purple, and they were just perfect for Easter … And now they are going to be perfect for Spring! I also am obsessed with the more pink toned highlights. I mostly own highlights that are more gold so it is a nice change to wear these pink shades. This palette is amazing and so reasonably priced! If you haven't got your hands on it yet, I HIGHLY recommend you do!
Next up is my Physicians Formula Butter Bronzer. In case you haven't read my 10 Minute Makeup Look or my most recent Bomb or Bust post, my finace surprised me with this beautiful bronzer one day when we were grocery shopping. I had mentioned that I wanted it but I was unable to purchase it because I had given up buying makeup for Lent. When I got home, it was in the grocery bag. God, I love him. Anyways, this bronzer has QUICKLY become a new obsession … I may one day be saying Holy Grail. It is the perfect shade, not too orangey yet not too cool, and it smells like HEAVEN! It blends like a dream and I feel like you can't over bronze with this stuff.. I can just keep adding more and more to my face but I never look like I have too much bronzer on. This stuff is so amazing and I am so happy that it is everything I was hoping!
My next love this month is a surprising one for me; It is the Arbonne FC5 Mattifying Powder. A friend of mine started selling Arbonne a few months ago, and at her launch party I felt that I had to buy a few things to help get her going. I purchased this powder because I am always looking for a great mattifying powder and I figured I would give it a try. A friend of hers had told me that this powder was amazing; That she used it all the time and it was great for keeping her skin matte. So I had really high hopes for it…But the first time I tried it, I hated it. I felt that it made my skin look cakey with a weird kind of blue hue. So I threw it in my bag never to be thought of again. Fast forward to a few weeks ago. My finace, his mom and I were at a sporting event and I could tell that my skin was starting to get greasy. I started to get paranoid and really needed to powder my face. I didn't have any powder in my bag except for this one so it was the only game in town. When I put it on my face I was SO pleasantly surprised! It actually kept my face matte for the rest of the day (I think it was only a few more hours but hey!) and I really liked it! Since then, I have been grabbing this powder non stop when I am out and about and need to powder my face. I am so glad that I gave it another shot because it really is great stuff!
My last love for this month, to go right along with my Purple/Easter theme is the Gerard Cosmetics Hydra Matte Liquid Lipstick in Ecstasy. As you are probably well aware, I absolutely LOVE Gerard Cosmetics. Their products are amazing, and the prices aren't too bad either. My last post was a swatch video of my collection of these Hydra Matte Liquid Lipsticks and how much I love them. Again, seeing as it is now Spring, and Easter has just passed, I figured it was the perfect time to bust out this beautiful purple shade. I am not one to really wear purples or pinks but I feel that with the Spring here, I need to start trying these more! I feel like this shade is very wearable; Not too crazy for someone who doesn't wear colour all that much. It is absolutely beautiful and I know I will be wearing it more often.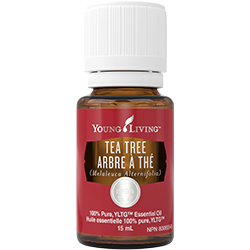 And last but not least, my favourite oil this month! I have been using this oil pretty much constantly over the last few weeks as my skin has been horrendous; Melaleuca Alternifolia OR the easier way to say it … Tea Tree. As I am sure you are aware, Tea Tree oil is really great for problem skin. It is a natural way to keep my acne prone skin from breaking out. I don't use this oil all the time; Only when my skin is really acting up (Which it has been lately! … I think it's because of my new cleansing routine!) Regardless, I use this oil at night because I feel like that is when I get the best 'bang for my buck' in the skin care department. I take a small amount of coconut oil, and add a few drops of Tea Tree and apply it all over my face. For the most part, when I wake up in the morning, my skin looks much better than it did before I went to sleep. I also use this oil for spot treatments if I have a breakout that is huge or won't go away; I just dab a small amount of the oil directly on the area and you would be surprised at how quickly it works! In just a couple hours, the breakout will be smaller and much less red. I love this oil and how great it works for my skin!
SIDE NOTE – I use Young Living Essential Oil on my face because I know it is 100% PURE essential oil. I wouldn't use any other brand on my skin because I am not sure how pure it is. Young Living has a 100% Seed to Seal guarantee that allows me to use these products without having to worry. For more information, please check out the Young Living website
Alright guys! That is it for my March K's Baes! Seeing as Lent is now over, I am back on the makeup buying train HARD! So I am hoping that next month, I will have a bunch of new and exciting products to tell you guys about!
I really hope you liked this post! Do you love any of these products as much as I do? What were some of your favourites this month? I would love to know so that I can try out some of your favs too! Thanks for reading, guys! Chat soon! Xoxox