Hi guys! Welcome back! I told you I would be getting back into the swing of things! Now with the holidays being over, it's back to business! And we are going to start this new year with … K'S BAES – December Edition! YAY! There are only a few products that I have been obsessed with this month, so if you want to see what they are, let's get to it, shall we?!
Honestly, I didn't buy a whole lot of new makeup in December seeing as I had to buy my family gifts and whatnot for Christmas 😉 So I tend to always reach for the same makeup; Which makes having different monthly favourites kind of difficult. But I have found some new loves that I am very eager to share with you. Here they are!
Estee Lauder Double Wear Foundation – I have been wanting to try this foundation for SO long; and I have no idea why it took me so long to purchase. The description of this product says it's a 15 hour, flawless foundation that stays looking fresh and natural throughout heat, humidity and non stop activity. It also says that it is lightweight, oil free, and buildable.  It is also fragrance free and non acnegenic. I'm telling you guys – this is my new holy grail; It is the best foundation I have ever worn. It covers all my scaring and discoloration, but it doesn't make me look cakey or orange. It is so stunning. If you are like me and like a full coverage foundation that isn't cakey, but is definitely buildable, I highly recommend trying this beauty!
Younique Touch Mineral Pressed Powder Foundation – So, Younique wasn't really a brand that I ever looked into in detail. But lately, I have been seeing a lot of videos of their products on my Facebook, so of course, I was super intrigued. My fiancé's stepmom used to sell these products so I asked her about some of them and being the sweet woman she is, she bought me the pressed powder foundation for Christmas. The description says this foundation is ultra-fine, long-wearing, and breathable with a touchable, even finish. I have become obsessed with this product. For the most part, I don't find that powder foundations have enough coverage for my liking, but this one surprised me. I wouldn't say that it is full coverage by any means, but it is super quick & easy, buildable and does help with the discoloration of my face. I find myself grabbing this almost every morning lately. For work, I don't really need a full face, so just a little something to make my skin look more even is very much appreciated. I will definitely be looking into more Younique products!
Too Faced Better Than Sex Mascara – So for some, this may be an 'older' product. I have heard of this mascara numerous times, but for some reason, I have never tried it. I was in my local Sephora on Boxing Day (NEVER again will I go boxing day shopping – It is WAY too much for me!) and they had these 'sample' boxes for 15$ each. There were some from Smashbox, and a few other  companies , but when I saw this one, I knew I needed to purchase it. This Too Faced box came with a sample size Better Than Sex Mascara, and a Chocolate Soleil Bronzer; Both products that I have been wanting to try so it was a no brainer right?! Oh my god you guys! I am in LOVE with this mascara! The brush is so fat and makes my lashes long and voluminous, and the colour is so black and stunning. You honestly only need one coat to make your lashes look super gorgeous. My next trip to Sephora, I will definitely be leaving with the large size of this product!
Urban Decay DeSlick Makeup Setting Spray – This is another product that I have read a lot about and have been wanting to try for some time. While I was waiting in line on Boxing Day, I saw the sample size of this product at the cash for 15$ so I decided to buy it! YAASSS! Love it! This helps keep my skin matte as well as keeping my makeup in place. I used this spray with my Estee Lauder Double Wear Foundation on Christmas Day and my skin stayed matte all day! And I didn't break out at all! This combination is my new go to when I go full glam.
And last but not least …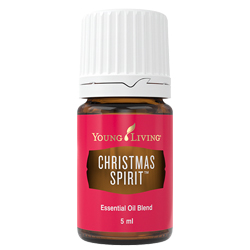 Christmas Spirit YLEO – How could I not add this to my December favourites?! Christmas Spirit is a blend of 3 different oils; Spruce, Cinnamon Bark, and Orange. All the scents that remind you of the holidays without any harsh chemicals or overpowering odours. This oil is said to help uplift your spirits and give a sense of security that is often associated with the holidays. Honestly, it was my FAV last month; I was diffusing it constantly. When Josh and I put our tree up, When we were watching Christmas movies, When we were wrapping presents. Anything that I was doing that reminded me of the holidays, I was diffusing this oil!
And that's it for my loves in December! If you are interested in purchasing any of these products, just click on the links! Who else loves these products?! Let me know! Are any of these products your holy grails as well?!
Thanks for reading guys! Chat soon! Xoxox