Hi guys! Thanks for coming back! Okay – So I bet you're sitting there thinking 'Bae'? Really Kaylee? But hear me out. So the Urban Dictionary explanation of the word Bae is 'Before Anyone/thing Else'. Bae is love; Bae is an obsession; Exactly how I feel about my makeup products when I fall in love with them! So I have decided to call my monthly favourites K's Baes! It rhymes, it's fun; Just get over it, okay?! #SorryNotSorry 😉 This will be my monthly rant of which products I am obsessed with for the month. Want to see what's on the list for K's Baes November Edition? Keep reading!
As promised, I am going to go over the products that I have been obsessed with this month. And this isn't just makeup; There will be other products that I have been loving as well. Let's get to it, shall we?!
Introducing … [drum roll, please] … K's Baes – November Edition!!
Product 1 – The Body Shop Tea Tree Squeaky Clean Scrub

So I purchased this product months and months ago, and I have been obsessed with it ever since. The description of the product says that it:
– Has micro-fine exfoliants with bursting beads
– Helps unclog pores without over drying
– Makes skin feel soft, smooth and super clean
– And that after using, your pores look visibly clearer
So clearly, all the things I need in life. I use this scrub every time I wear makeup. After I take off all my makeup, after my cleanser, I use this product and it really does make my skin feel super soft and clean. And I know that it is helping unclog my pores (Which I need to be careful of seeing as I am very acne prone.) When using this product, it sort of tingles while it is on your skin which I love because it makes me feel like it's working. Absolutely love this scrub, and I will continue to use it for a long long time!
 The next product is also from The Body Shop; It is the Vitamin E Sink-In Moisture Mask. This product is full of Vitamin E and antioxidants that help bring skin to its optimum moisture level. I believe this is supposed to be a treatment (Obviously, since the name says 'mask' in it) But I actually just use it as a moisturizer. It is super thick so you only need a small amount. But in the winter, my face gets these weird dry patches (Oh the joys of Combination Skin .. Just the worst) so I feel that I needed some serious moisture. This stuff is a winner! I really like the way it feels on my face, if I'm putting makeup on it doesn't alter the way it sits and HUGE BONUS! It doesn't break me out! YAY!
Obviously, I had to include this powder; The Maybelline Fit Me! Matte & Poreless Powder. I have been using it non stop this month. I feel like this month, I have been doing my makeup much more than usual, with my birthday week (That's right .. I celebrate for a whole week!) And the wedding that I went to.. I just feel like my makeup has been done a lot. And every time I have done my makeup, I have been grabbing this powder. I can't get enough of it. The description of this product says it:
– Mattifies and matches skin for a poreless looking finish
– Long lasting shine control (Up to 12 hrs)
– Buildable coverage
-Oil-free and won't clog pores
For the most part, it does everything that it promises! My skin is super oily, so the 12 hours does NOT happen for me, but it does mattify and makes my pores look less visible (Not completely gone, but still pretty good!) I have this foundation as well, but I bought the wrong shade. I can only imagine how much more I am going to like this powder with the foundation under it!
 OF COURSE I had to add the Carli Bybel Palette by BH Cosmetics! I have been obsessed with this palette ever since I was sent the email saying it was back in stock and that I could purchase it! The palette comes with 10 eyeshadows and 4 highlighter shades. All the colours are stunning, super pigmented and super blendable. I have used the eyeshadows a couple times, and I have been obsessed with the highlighter shades. They are just beautiful; Sparkly and girly like a diamond glistening on your face. (Am I right?) Absolutely gorgeous! BH Cosmetics products are all Vegan, Paraben Free, Cruelty Free and Allergy Tested to ensure the highest quality for all consumers. ALSO! This palette costs $12.50. I'm not kidding! Twelve dollars and fifty cents! Seriously, do yourself a favour and buy this NOW! You won't regret it!
 I think my biggest love of all makeup is mascara. I love trying any mascara that I can get my hands on. I think that mascara adds that little something to your makeup look. I have decent eyelashes, so I very rarely use fake eyelashes so I am a big fan of volume mascaras! Enter Smashbox Full Exposure Mascara. I received this product in my November Ipsy Glam Bag and it was my favourite product that I received BY FAR! This is a lengthening mascara over a volumizing formula for your longest and fullest lashes! Smashbox also claims that this mascara will not clump or flake, which is always a good thing! So far, this is one of the best mascaras I have used to date. Honestly, it makes my lashes look long and luscious without flaking during the day. I love this mascara; If you are looking for a great mascara that is still reasonably priced, I recommend trying this one.
Highlighters. The newest craze. And let me say, I was NOT a believer for a long time, but now I love them. This one has been one of my favourites ever since I decided to jump on the highlighter band wagon; Colourpop Cosmetics Highlighter in Lunch Money. This highlighter is sort of a light gold colour, which I think looks really nice with my skin tone (I actually think it would look gorgeous with almost any skin tone.) It is super pigmented and a little goes a long way. I am not the biggest fan of cream products, but I will definitely make an exception for this one! The price is right at $8 which this product is definitely worth.
If you have read some of my more recent posts, you know that I have been in love with this brush since I was given it as a gift for my birthday. I am not a fan at all of foundation brushes; I don't like the way they apply my foundation, I don't like the way my makeup sits on my skin when I use one.. I'm just not a fan. But then I received this Arbonne Mineral Powder Foundation Brush and I am a changed woman! I am not going to go into detail as I just did an entire review on this brush (If you want to check that out, click here) But just know .. I am seriously in love with this brush.
And last but not least …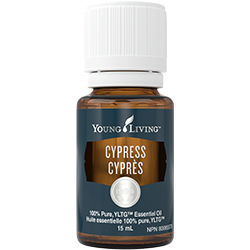 Young Living Cypress Essential Oil. This oil has become my obsession since I received it in my mail at the beginning of November. A friend of mine was constantly posting about how much she loved this oil, so I finally took the plunge and ordered it for myself and I am SO glad I did! Cypress oil has an earthy, woodsy, evergreen aroma, reminds me of walking through a forest after a rain storm. It's said to strengthen and help ease the feeling of loss. It also creates a feeling of security and grounding and can help to heal emotions. I can honestly say that every time I wear this oil in my diffuser necklace, I can instantly feel myself becoming less tense and stressed. It really is an amazing oil!
Well, I guess that's all for the very first edition of K's Baes! I know that it is no longer November, but I had to get all the way through to ensure that I had the perfect list of monthly obsessions for you guys! I hope you guys liked hearing about all my favourites this month! Do you have any of the same favourites? Or other favourites that you think I might like? Let me know!
Thanks for reading guys! Chat soon! Xoxox